ROM Dance® Program
I am sitting on my chair at a quiet beach…. warm waves lap at my feet as they dangle in the water…. I scoop the warm water over my shoulders…. I gather the sun's warmth…. bathing me in a shining light…. soon we connect as friends….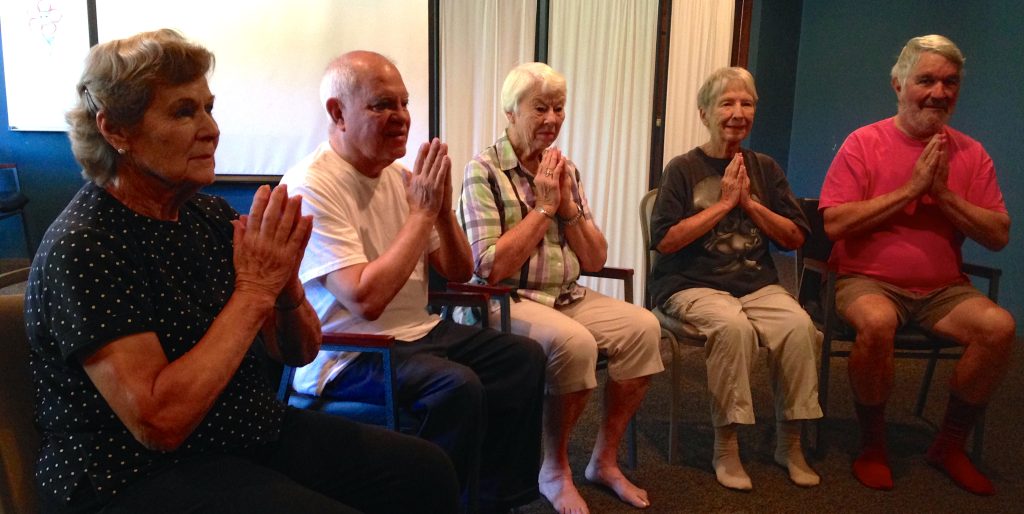 This lyrical ROM Dance® verse guides you through slow, gentle exercises with soothing background music. Created for anyone with pain and stiffness, these relaxing movements are pleasant and easy to learn. You can simply purchase the Home Practice Kit and follow along with the DVD at home as a daily routine. Home Health and Long-term care facilities purchase the Professional Media Kit, to learn and lead it for individual and group activity, or play the DVD for residents to follow.
The ROM Dance® is an innovative exercise for people with pain and other physical limitations. It combines medically recommended range-of-motion exercises with the mind/body principles of Tai Chi. Adapted for use with walkers and wheelchairs, it is easily modifiable for individual needs.
• Takes only 7 minutes to perform
• Move comfortably without straining
• Helps you relax to reduce stress and pain
• Includes exercises for large joint and hands
• Recommended by doctors and therapists for more than 30 years
• Practice regularly to maintain or improve joint flexibility
View sample movements
View sample hand exercises
Reviews
"…Allows patients to maintain good range-of-motion without stress on their joints…soothing nature of the program promotes a sense of well-being." —Douglas Lain, MD, Rheumatologist
"The ROM Dance is an ideal tool to enhance your mobility and peace of mind. I recommend it highly." —Richard Carlson, PhD, author
Interviews with ROM Dance® Class Participants
Program Applications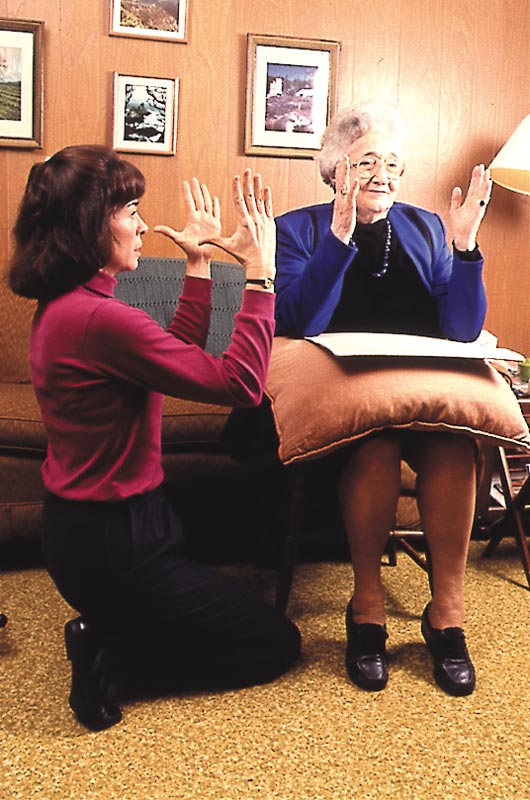 It can help people maintain joint flexibility and cope with stress and pain, and is an enjoyable warm-up or cool-down for more vigorous exercise. Based on movements usually recommended for rheumatoid arthritis, it has applications for fibromyalgia, oncology, pain management, hand therapy, Parkinson's, lupus, psychiatry, stress reduction, neurology, geriatrics, and chronic fatigue.
Taught by: physical and occupational therapists, nurses, dance, recreation and massage therapists, activity professionals and Tai Chi instructors. Settings include: rehabilitation, hospitals, assisted living, long-term care, home care, senior centers, outpatient clinics, and community classes.
Developed by Diane Harlowe, MS, OTR, FAOTA and Tricia Yu MA, the researched ROM Dance® is a creative blend of medically recommended joint exercises and gentle movement inspired by Tai Chi.
ROM Dance® in Sunlight Sample Sequence