Tai Chi for Seniors!
Our Tai Chi Health programs are designed especially with seniors in mind. They also are gateway programs for learning traditional Yang Style tai chi. Tai chi is a gentle non-impact exercise that is easy on your joints and helps keep your legs strong. Our programs are all great for improving your balance and for keeping you fit—physically and mentally. Practice every day for lifelong well-being.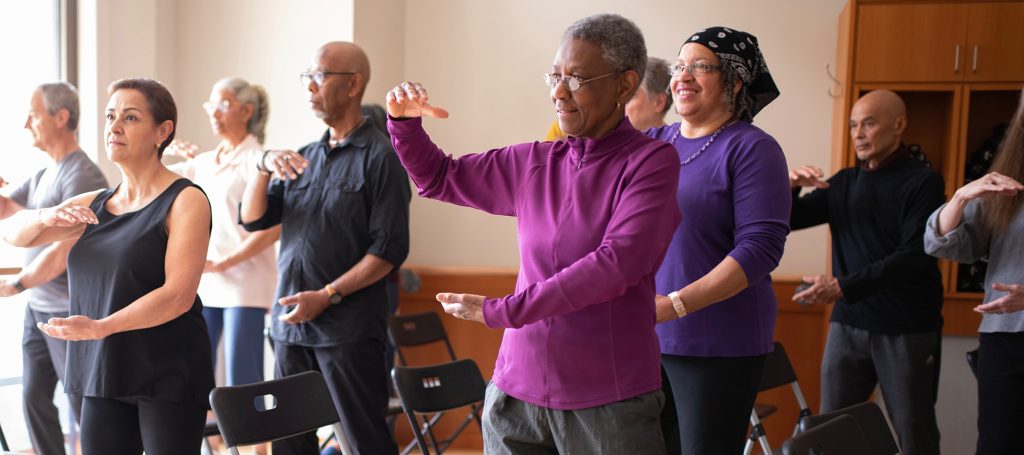 Check out:
Our evidence-based Tai Chi Prime class series which has been proven to reduce the risk of falling. Research on Tai Chi Prime has shown that participants significantly improved balance, cognitive function, strength and mobility in just 6 weeks!
Original Tai Chi Fundamentals® Program provides you with a simplified program for mastering Tai Chi basics. Practiced standing without support, it was the program taught in this published research.
Tai Chi Fundamentals® Adapted Program is further simplified, includes a chair by your side for Optional Side Support, plus Walker Support and Seated versions. The Optional Side Support version is taught in the Tai Chi Prime classes.
The lyrical ROM Dance® is a creative blend of medically recommended joint exercises and gentle movement inspired by tai chi. Versions included movement seated and standing with support, plus seated only version.
Reviews:
Tai Chi Prime
This is the best course I've ever taken! — Participant
Very helpful in strengthening myself for much better balance & awareness of my thoughts & body. — Participant
Original Tai Chi Fundamentals® Program
"Tricia Yu's program is the simplest and easiest to learn. It is a unique exercise suitable for all ages…" —William C.C. Chen, Grand Master, Tai Chi Ch'uan
"—Makes a strong connection between the exercise form and its applicability in the clinical environment… brilliant and inspired work." —Jennifer Bottomley, PT, PhD, in The Gerontologist and GeriNotes
Tai Chi Fundamentals® Adapted Program
Tricia Yu's earlier landmark Tai Chi Fundamentals Program was instrumental in catalyzing the integration of tai chi practice and principles into physical therapy and rehabilitation programs worldwide… [Tai Chi Fundamentals Adapted Program] is destined to become another widely used landmark program. —Peter Wayne, PhD, Research Director, Osher Center for Integrative Medicine, Brigham and Women's Hospital and Harvard Medical School. Author, The Harvard Medical School Guide to Tai Chi
"This is the most all-inclusive program for Tai Chi I have found for individuals that require adaptive techniques or external support … I highly recommend it." —Marcella McGee OTD, OTR/L., Physical Medicine and Rehabilitation specializing in skilled therapy, falls prevention, and adaptive sports
ROM Dance® Program
"…Allows patients to maintain good range-of-motion without stress on their joints…soothing nature of the program promotes a sense of well-being." —Douglas Lain, MD, Rheumatologist
"The ROM Dance is an ideal tool to enhance your mobility and peace of mind. I recommend it highly." —Richard Carlson, PhD, author